Tips & Ideas for Kids' shops: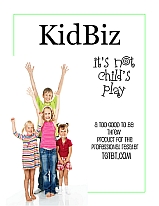 KidBiz: It's Not Child's Play is a 31-page Product for the Professional Resaler, designed as a supplement to the Manual, specifically for those who sell childrenswear and equipment as part of a family shop or as a specialty.
Read about How does a childrenswear shop differ from a shop which carries adult clothing only?* What to carry?* What else to offer* What will your shop look like?* Kiddie Traps * Layout concerns, Merchandise presentation, Displaying children's paraphernalia * Babes in WindowLand* Fix-it tips* Calling attention to your shop, Special events* Make yourself a fixture in your community* Grow with your Customer's Families* Activities designed to make your shop a destination* Offering a little bit more* The Big Three Seasons in Childrenswear* Creating a child friendly business, * Selling expensive kids clothes* and tips from kidswear-resale friends near and far.... Order KidBiz at the TGtbT Shop

and while you're there, take a look at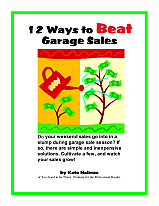 How to Compete with Garage Sales Get shoppers (and suppliers!) into your shop instead of losing business to garage sales. A PDQ book directly from Kate to your computer.
Customer Service Brochures Take-homes to remind a busy parent about your shop include How to Shop Resale for your Kids, Out Out Darned Spot, The Harried Shopper's Quickest Recipes, and Quick Recipes that Kids Love. The cheapest and most effective store give-away!
Shop-Sizzle Easy, effective, economical ways to make your shop look as great as your selection. Especially important with the variety of merchandise in childrens' shops!
Customer Service:
No space for a play area? Possible solutions to keep kids occupied and out of the way: Put some of these GelGems on the bottom of a mirror, add a mini bean-bag chair, and you're set.
Our customer-centric site, HowToConsign.com, has articles and ideas you can link to such as Back-to-School shopping with kids and some grand costume suggestions. Your shop can have a free listing as a Sponsor at HowToConsign.com
Learning for children's resale shopkeepers:
Consumer safety: Govt recalls
ALL recalls in one place
Earnshaw's is a retailer/ manufacturer magazine from Canada. Great reading re trends, what's selling, more.
GiggleGuide is a site for childrenswear retailers.
High-end childrenswear guide by James Girone.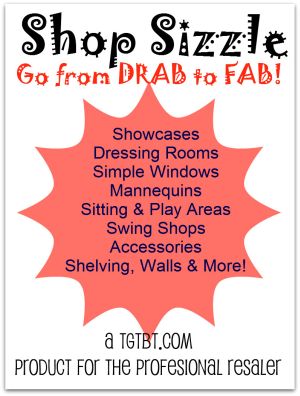 Topics/ resources for your childrenswear shop blog:

Lots of consumer-centered ideas on HowToConsign's Kids Pinterest Board
Who'd have thought? Fun kids' activity pages from the US Patent Office!
More stuff than you could possibly want to know about kids and parents
Child-related activities, themes, clip art, recipes, and more: Crayola Central and Coloring pages
The ultimate baby gift for your nearest and dearest expectant parents

Reader suggestions for wholesale goods
Remember, these are suggestions, not recommendations. Be sure you are comfortable with these vendors before committing a lot of money.

BabyLegs Leg Warmers (note: they now have socks and tights too!)
Tights and socks for kids and adults.
No Slippy Hair Clippy
Melissa and Doug
Bobux, & Jack and Lily: soft baby/toddler shoes.

More links on the Too Good to be Threw Links Page