Thinking Outside the BOX: TOB for Resalers


Unusual twists on standard retail practices from resale shop keepers. They've thought outside the box, and share them here so we can "recycle"! Why keep trying the same things everyone else does? Use your imagination! Have a good "Thinking Outside the Box" idea you use? Email it to me to share it!
Finding a little more room for shoes
Mother's Day Gift like no other...
Personalized Gift with Purchase: Wall of Prizes
More Gifts: Goodie Bags Bring Great Word-of-Mouth
Overcoming Staffers' Fear of Computing: Make it a perk!
Slow Month Calendar. Use it to ready your shop for the busy season!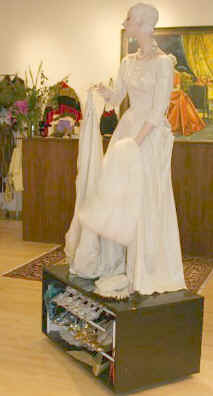 Finding room for shoes. There's nothing that says unprofessional, dusty, dirty and used like shoes lined up under the clothing racks in your shop. But shoes sell well, and they do take up a lot of room. Here's an idea from a shop that is no longer in business that I particularly like. The mannequin stand is actually a sturdy square with a small shoe rack, like those used in home closets... but here, it looks good, not messy!

Kate discusses Why this is "out of the box" thinking: Taking advantage of air space is something we can all do. Tucking a cabinet or table under another piece gives you a natural corral for a collection of merchandise. If you don't use mannequins in your shop, how about putting that free-standing earring carousel on a stand like this? Don't sell shoes? Use this idea to "file" trays and platters vertically.

Notice, too, that the shoes shown with this luxe vintage evening ensemble are evening shoes. After all, who wants sneakers when they see that gown! Make sure that your added area has its own merchandising reason for being.

Give her money to spend. More often than you think, you'll get it back. Cathy printed up specific business cards that she would leave with $5 tips in lunch places, coffee shops and so on. The card says "See what $5 will get you at MyShop!" On the reverse of the card is her logo, tag line and location/ hours/ contact info. "Yesterday after I left a card, the waitress came in after her shift with a co-worker or two... all brand-new customers, and they spent over $100 on their first trip in! It happens like that quite often. Waitresses have cash just after work, and if they need white shirts or black pants, they know there's no sense in buying those new. Plus, waitresses talk to lots of people and leaving a big tip creates goodwill towards my store.
"Using your advice for creating excitement at my store has proven itself over & over, Kate, thank you so much."

Kate discusses Why this is "out of the box" thinking: Well, you have to leave a tip. Why not take it a step higher and give a little more than would normally be expected. Notice the card doesn't actually give a discount, but there's the $5 bill right there ready to spend! You might adjust this advice if your neighborhood, lunch joint, and shop are in a different monetary range. Point is: the bucks left need to be noticeably more than expected for the meal/service, and the card amount needs to match the tip. And even if the money doesn't come right back atcha, you can bet that this word of mouth is worth every penny.

A simple but so meaningful Mother's Day Gi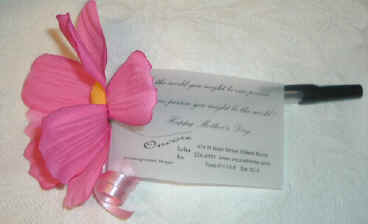 ft: Patricia made up these pens as a gift to her customers during the week leading up to Mother's Day. She says So far this morning we gave away 10 of them and everyone loved them! Kisses and hugs galore! It is a regular stick pen with a flower on top with an attached vellum poem and our business info... what a hit! Thank you for continuing to inspire us! The wording on the attached tag is: To the world you might be one person, to one person you might be the world!

Kate discusses Why this is "out of the box" thinking: First, because the gift is personal. No one else in the world is giving them out. And we're willing to bet that very few businesses are giving anything to their customers just because it's Mother's Day. Second, because it is low-key. No purchase required, no big spiel. Just a simple saying that means a lot. (Heck, it made me tear up, and I'm not even a mother!) And there are two more reasons this is a great promotion: it makes your customers feel good (= warm fuzzies about your shop) and it's a talking point for spreading word-of-mouth, since it's unusual...and the pen's likely to be used in public as well!

My "Wall of Prizes" Janet in Indiana contributed this true Mom-&-Pop touch! "The key is I don't want to give away my profits. I make every effort not to spend more than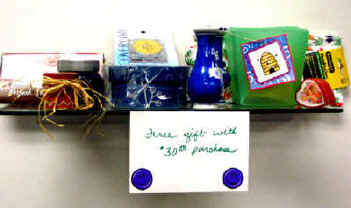 the cost of a stamp to mail in a rebate or to get a free item from vendors. If I am buying outright, I never spend more than a quarter. You can see each gift is different and my customers love the variety. Frequently I am asked to calculate their current purchase total so they can make sure to reach the $30 level so they are eligible to pick a gift. They just love it and I try to get things I think they will enjoy.


"Today's selection includes a silver perfume vanity tray, skin cream, candle, purse mirror, decorative paper box, pair of blue vases, beeswax candle, garden gloves and an angel stamp. The items change all the time, wind chimes, purse flashlights, makeup brushes are all popular but so are small dishes and vases. Anytime I get a chance to pick up something for free or 10 cents – sidewalk sales, closeouts, if a store is moving or having a clearance – I ask, " how much if I buy them all"? Free items can often be combined with something else like a body shampoo sample with a bath puff.
"I get a kick out of it and the girls are always excited that they get something extra.

It makes my customers happy and that is the important thing! I want them to keep coming back and telling others - a small price to pay for all of the goodwill it fosters." Regards, Janet

K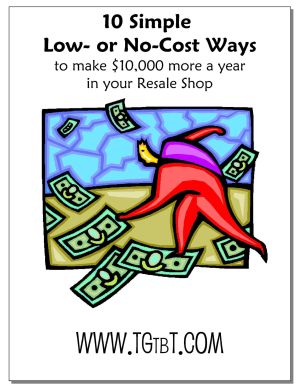 ate discusses Why this is "out of the box" thinking: First, because the gift with purchase is ongoing, not a special event. This encourages the shopper to increase her spending. Janet's a new shop, so her attainment level and her prizes are comfortably modest. If you're a shop with more traffic and/or higher average sale, you might want to adjust accordingly.
The second reason that this is out-of-the-box thinking is actually more interesting. The variety and changing of the prizes keeps shoppers intrigued and coming back to see what they might score this shopping trip! Makes it fun, worth repeating...and incredible word-of-mouth generating. And, of course, every time your customer uses her little paper-clip plate or hears her wind chimes, she thinks of your shop. Thanks, Janet, for a new twist on an old theme!

Another Idea: Goodie Bags!
It seems like every party, nowadays, has to have favors or goodie bags. Not just for children's birthday parties anymore, they're given to wedding guests, anniversary participants, and now: your shop!
How about a goodie bag for Hallowe'en time? Whether you deal in kidstuff or clothing or home items, hand out little baggies of treats for a few days around the holiday. What could you have in it? A few individually wrapped candies, of course, maybe a plastic spider ring or other small (safe, if you're giving these to children as well as adults!) toy, and a business-card sized admission ticket to your 8AM Thanksgiving Friday special event.
Create goodie bags to have on hand for special occasions: You find out it's her birthday, or that he got the new job he was hoping for. Little Timmy shows you his first loose tooth... use these goodie bags any time you want to say more than "Congratulations." A bit of jewelry, a mini-toy, and your business card, stamped on the back with Best wishes! Redeem this for 20% off any one item, anytime. Or maybe you're having a promotional event, a fashion show, or a season debut: Make up goodie bags for the first 50 attendees.
Reward special customers: If you have a bridal department, a goodie bag of a tiny perfume sample, a "bride" pin, and a coupon for a free garter and bridal purse with purchase of a wedding gown will thank brides-to-be for trying on a dress or two. Maybe you sell furniture? When someone buys a dining room set, they get a goodie bag with a scented candle, a packet of colorful paper cocktail napkins, and an invitation to the cooking demonstration next month.
Goodie bags are fun, too, for consignors. A sample of a cleaning product, a stain-removal brochure such as our Out Out Darned Spot layout, a tiny sewing kit and a mint or two... and of course your business card. Limit these to the first several weeks after you've mailed out your "bring in the new season" postcards as an incentive to get in early.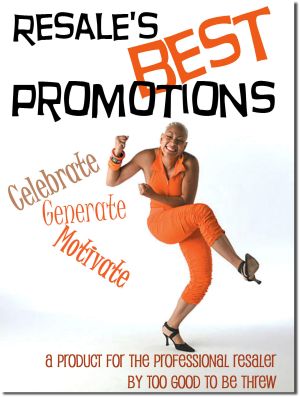 Kate discusses Why this is "out of the box" thinking: When was the last time someone gave you a little, pretty gift just because? Think your recipient will mention it to her friends, co-workers, and family? You betcha! For just pennies, you can surprise and delight your customers. THAT will never happen at the mall! For more ideas for promotional events there's Resale's BEST Promotions available from TGtbT.
Staffers Leery of Store Computer get FREE lessons on how to use it...and the one sitting dusty at home
Christine talks about training older staff who are computer-phobic:
"I've had "never-touched a computer" women. First thing I told them was that there is very little chance that they will "break" something or "blow up" the store. Secondly, almost all "oops" can be fixed and lastly, their job will be so much easier that they will have more fun.

"I went to the local Senior Center and talked with the woman who teaches computer skills to their members. For a $100 shopping credit, she worked with each woman (there were 2) for 2 hours individually on computer basics and then spent three hours with them as they worked. I spent an hour with her in advance showing her the basics of our system. Best money I ever spent!

"These women were so excited that they joined the Senior Center, take advanced computer classes and love it so much they beam. They bought computers for their homes and email like crazy. One wants to learn eBay so I've given her a few of my odder items laying around to work with. She gets 25% of what they sell for...we shall see!"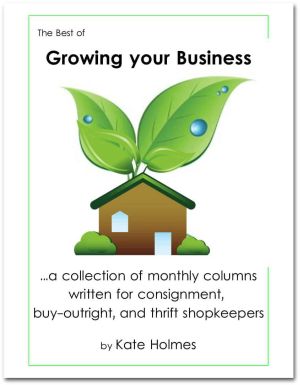 Kate discusses Why this is "out of the box" thinking: Whenever you can turn "training" into a job perk, it's win-win! YOU get staffers who are better assets to your business, they get fun and education. Other ideas: sending salespeople to fashion shows and trade shows, bringing staffers with you to NARTS meetings, "treating" a pricer to a day at the mall on your payroll...as long as useful notes on pricing and styles shown comes back!
Another Out-of-the-Box Idea: Use your slow time to get ready for the busy times! How about a Slow Month Calendar? You can download the PDQ for free.
What's a PDQ? The Slow Month Calendar